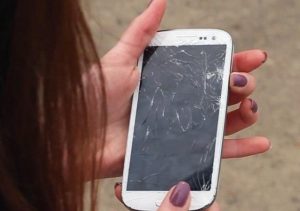 A cracked screen is the most common issue with a cell phone. Unlike other faults, this one is apparent. You can end up with a cracked screen if you accidentally drop it on hard concrete or bump it against a table. It is effortless to wreck. We see at least 20 cell phones with cracks screens every day.
With certain internal issues, it is possible to repair. With breaks glass, that is quite impossible. Unless your phone screen can heal itself, you will have to go for a replacement, irrespective of the make and model of your phone. A cracked screen may seem harmless and rather annoying in the beginning since it does not affect the ability of your phone to function instantly. As the cracks increase, your phone loses the sensitive touch response. This interferes with the capacity of a phone to work. If you do not pay attention to a broken screen, it may lead to a host of other problems including –
Blotched display (LCD)
Unresponsive touch
Complete unresponsiveness
Should you try a DIY repair?
This is one question many of our clients ask. Our response is the same every time. Do you have training in cell phone repair services? If not, do you have a kit that will help you replace a broken screen? If the answer to the last question is yes, you have to remember that fixing phones takes practice. Mobile phone screens do not pop in and out readily. You need time, patience and the right equipment to take the device apart, take the screen out carefully so that no chipped parts remain inside. Then place the new screen in, connect it to the LCD and check if the device is working again.
Since you will be performing an invasive procedure on your phone, you should be careful not to inflict any damage. One wrong move can compromise your phone's activity.
How should you ideally repair your phone's screen?
The only way to fix your phone's cracked screen perfectly is to take it to a professional. They have to undergo extensive training to be able to repair your phone correctly. Most repair services like the Actionlinkwireless.com offer extended warranty on repairs. Therefore, if your screen is crooked or becomes loose during handling a couple of days later, you can always go back and claim re-service.
How to find the right cell phone repair service?
Always make sure that cell phone repairing is their primary business. Never go for a business that treats cell phone servicing as an auxiliary business. Go for companies that have a local storefront. This will ensure that you are not handing your phone over to crooks on the internet. Your repair service should have expertise in fixing all kinds of phones including iPhones, the latest Android phones, and Windows phones. If your mobile repair service also offers tablet repairs, it is great!
Cellphones are a part of our daily life and livelihood. Losing it for even a couple of hours takes a heavy toll. That is why you need to choose a company that offers quick repair and services.