Tablet Digitizers/Screen Repairs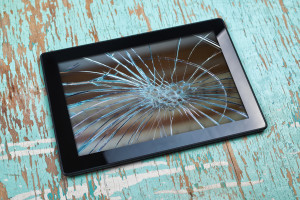 You use your tablet every day, for business,  your personal affairs, and for fun.  It is very frustrating if your tablet does not work the way it is supposed to, as it is impossible to access your device without touch. The digitizer is the outer layer of the tablet that responds to touch.  If this is broken, your tablet will stop responding to touch, either sporadically or not at all.  If your screen is cracked, it is important to bring it in as soon as possible.  While the digitizer might still be working, the broken pieces can start to slide out of place, causing more damage, and potentially causing injury.  We can fix your tablet digitizer or screen whether you dropped it and the screen shattered,or it just wore out over time.  Bring your tablet in for repair today if you have any of the following symptoms:
Outer glass on the tablet or iPad is cracked, but still responsive to touch

Outer glass is cracked and unresponsive

iPad or Android is unresponsive to touch, but the screen is not cracked
At Action Link Wireless, our in-house technicians have the knowledge and expertise to fix your broken Android tablet or iPad screen/digitizer. We specialize in Salt Lake City iPad and Android tablet repair. If the digitizer or screen that you need is in stock, we may even be able to repair it while you wait!