You love your iPhone and take it everywhere. You rely on it for everything: from answering work emails to playing games while you're waiting in line. So, when it breaks, you need it fixed correctly and quickly.
Get Your iPhone Fixed Fast!
There's nothing quite as frustrating as having a broken phone. You rely on your phone to keep in touch with friends & family, to conduct business, to stay on schedule, to listen to music, and to entertain yourself with apps & games.
When your iphone breaks, we know that you need it up and running right away. That's why we provide fast repairs that will get you going again– ASAP! Many of our repairs can be done while you wait, meaning: you'll be walking out of our shop with an iphone that's as good as new.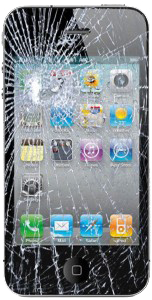 Quality Parts and Quality Labor
We provide fast and inexpensive iPhone repair, but we don't cut any corners when it comes to quality. All of our repairs are done with brand new and original manufacturer parts (OEM). Our experienced techs make sure the job is done right the first time. We are so confident in our work that we offer a 6 month warranty on all parts and labor.
Quality iPhone repair doesn't have to cost you a fortune. Our affordable in-house repairs will extend the life of your iPhone and have it functioning like new again. Your iPhone never has to leave the shop, so you know the job is getting done right and not accumulating outrageous shipping costs that will needlessly increase the price.
Common Problems Fixed Right
We can handle any iPhone repair, including common issues like:





We can quickly handle any of these issues and much more. If your iPhone is irreparable, we also have a huge selection of refurbished iPhones that could will be the perfect inexpensive solution for you. If your iPhone is functional, but you're still in the market for a new phone, we also offer discounts on upgrades for trade-ins. The bottom line is: we'll make sure you leave with an iPhone that will work with your plan.